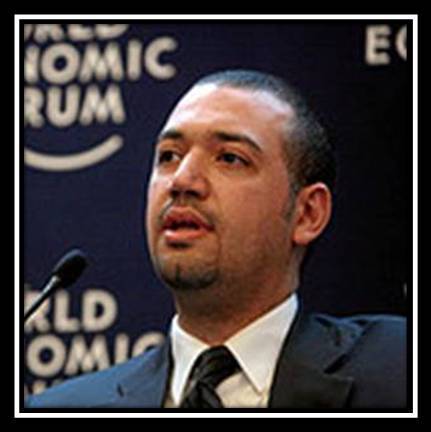 Shaykh Moez Masoud
Moez Masoud (born 1978) is an Egyptian television and radio presenter, religious leader and activist who focuses on the fields of spirituality, inter-faith dialogue, de-radicalisation and Islam in the modern world. In November 2011, he was described by "The Economist" as one of the world's five most influential Muslim preachers.[1] He is a Fellow of the Royal Aal al-Bayt Institute for Islamic Thought and a research affiliate with the Psychology and Religion Research Group at the University of Cambridge, where he is currently pursuing a PhD.
Masoud is well-respected by his peers as a Hafiz of the Qur'an (one who has memorized the entire Qur'an). He grew up speaking English and colloquial Arabic. Masoud is a graduate of the American University in Cairo, and has studied Islamic Theology & Sciences under the tutelage of numerous prominent scholars for over eight years. His studies have taken him to many cities in both Muslim and non-Muslim countries in search of all authentic sources that convey the inner, esoteric spirit of Islam as well as the orthodox understanding of its Sacred law.
During his university years, Masoud began to become popular as a discussion group leader. This led to his first Islam related show; the English language Parables in the Qur'an which garnered a wide global viewership, including a significant audience in North America. His episodes were seen as encouraging Muslims to live a successful contemporary life while embodying their religion's core spiritual teachings.
His first Arabic program was "Al-Tareeq Al-Sah" (The Enlightened Path), which premiered during Ramadan 2007 and was filmed on location in Cairo, Jeddah, Istanbul, London and Madinah. The series addressed poignant and largely taboo issues facing the Muslim world, including drugs, alcohol, gender relations, homosexuality and the roots of terrorism. The show's aim was to juxtapose a traditional understanding of Islam with post-modern society, "highlighting the conflict and often-surprising reconciliation between traditionalism and modernity". "Al-Tareeq Al-Sah" generated over 1.5 million downloads on YouTube. His latest series, which aired in 2011, was called "Thawra 'ala El-Nafs" (A Revolution Within), and aired on Egyptian state television for the first time (Masoud - like all influential figures - was banned from appearing on official state TV during Mubarak's reign). It also aired on CBC, a post-revolution popular Egyptian satellite channel, and as a radio segment on Nogoum FM, Cairo's no. 1 radio station, making it accessible to millions of viewers and listeners across the country. Both the TV and radio versions of 'A Revolution Within' continue to receive much critical acclaim.
Masoud's career in media also includes directing, writing, and producing various content highlighting the need for global mutual understanding between disparate ideologies. His efforts have attracted much critical acclaim and have contributed to an expansion of dialogue between activists in the Arab world regarding the need for formal Islamic religious discourse to encompass and attend to nuanced issues faced by Muslims in the contemporary world.
Masoud is regularly invited to give lectures and lead workshops and his travels have taken him from all over the United States and Europe to Malaysia and Australia, attracting substantial coverage by both Western and Arab media. Recently, Masoud was invited to join the 'On Faith' online forum, hosted by The Washington Post and Newsweek to participate in regular discussions centered around faith and religion. At The Search for Mutual Understanding (an inter-faith conference held in Abu Dhabi in 2006) he gave a speech titled "Islam in the Modern World". It has been viewed on YouTube over 2 million times.
Masoud was named "Egypt's most influential religious figure of the year" in 2008, and was featured in Georgetown University's "The 500 Most Influential Muslims of 2009," published by the Georgetown Center for Muslim-Christian understanding, and later in both the 2010 & 2011 versions, published by the Royal Islamic Strategic Studies Center respectively. After his role in the Egyptian revolution (see below), Masoud participated in the first post-revolution Egyptian National Dialogue and has since become a key player in the social, political and economic reformation of Egypt.
JazakAllahu Khair to:
www.revivingtheislamicspirit.com/convention/speakers.php?id=45